Researchers rediscover 'lost' coral and wildflower species
---
Curtin University researchers have discovered a 'lost' species of coral that had been hidden for more than 50 years, finding that the coral Plesiastrea versipora, which is widespread in the Indo-Pacific Ocean, was actually hiding a second, cryptic species. The species in question, which has since been named Plesiastrea peroni, has now been documented in the journal Molecular Phylogenetics and Evolution.
"The species Plesiastrea peroni was [originally] described some 200 years ago," said Curtin PhD student David Juszkiewicz. "As time went on taxonomists clumped it with Plesiastrea versipora, but we have now resurrected the former species, which had been hidden for more half a century.
"We trawled through 200 years of historical and modern-day literature to firstly understand the larger morphological characteristics of Plesiastrea versipora, which was first described as a single species in 1816.
"By diving on various sites around Australia and the Indo-Pacific, we collected samples, which we used to study the micromorphology and microstructure of the coral skeleton to further identify its unique intricate features.
"After carrying out genetic sequencing, we found this species of coral actually contained a second, cryptic species … and this is found north of the Tropic of Capricorn in Australia and across the Indo-Pacific."
Juszkiewicz said the discovery of a new species assists in biodiversity conservation and helps to prevent the loss of species diversity in the face of climate change, noting, "We cannot protect species if we do not know about their existence or their present-day geographic range, so this study is a step towards achieving this.
"This study bolsters our understanding of the tree of life and highlights the importance of taxonomy projects that help us understand the organisms that exist on our planet, how they are all related and how to better protect them."
The news comes just weeks after another story of rediscovery, when researchers from Chicago's Field Museum reported in the journal PhytoKeys the first confirmed sightings of the South American wildflower Gasteranthus extinctus in 40 years.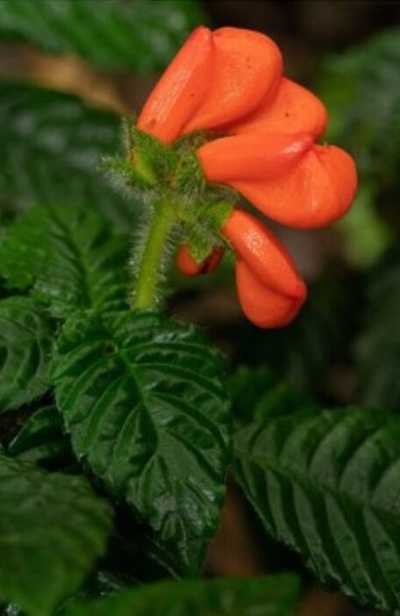 Photo of Gasteranthus extinctus by Riley Fortier.
The orange wildflower comes from a region at the foothills of the Andes called the Centinela Ridge, notorious among biologists for being home to a unique set of plants that vanished when its forests were almost completely destroyed in the 1980s. It was first described by scientists in 2000, who suspected that by the time they named it, it was already extinct.
Since 2009, a few scientists have mounted expeditions looking for G. extinctus, without success. But when Dawson White and Nigel Pitman received funding from the Field Museum to visit the Centinela Ridge, they had a chance to check for themselves.
"It was my first time planning an expedition where we weren't sure we'd even enter a forest," Pitman said. "But as soon as we got on the ground we found remnants of intact cloud forest, and we spotted G. extinctus on the first day, within the first couple hours of searching."
While the flower remains highly endangered, the expedition found plenty of reasons for hope. "Finding G. extinctus was great," said Pitman, "but what we're even more excited about is finding some spectacular forest in a place where scientists had feared everything was gone."
The team is now working with Ecuadorian conservationists to protect some of the remaining fragments where G. extinctus and the rest of the Centinelan flora lives on. According to White, "Rediscovering this flower shows that it's not too late to turn around even the worst-case biodiversity scenarios, and it shows that there's value in conserving even the smallest, most degraded areas."
Image caption: David Juszkiewicz with a Plesiastrea coral. Image credit: Nicole Carey.
Please follow us and share on Twitter and Facebook. You can also subscribe for FREE to our weekly newsletters and bimonthly magazine.